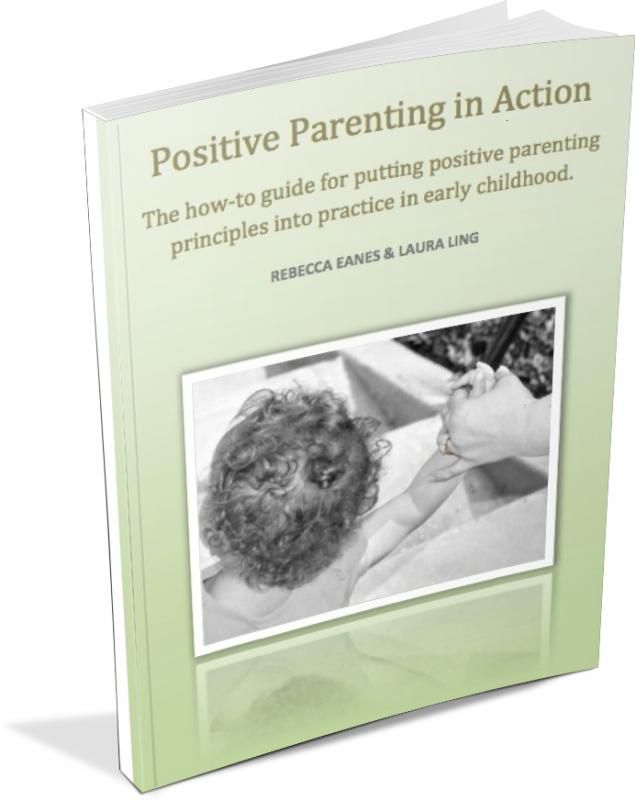 © copyright 2013- All Rights Reserved
Are you tired of books that tell you what you should or shouldn't do but don't give you any alternatives?
We were, too! So we've written an eBook specifically to show you what positive parenting looks like in action! In this 69 page PDF eBook, we cover 15 behavior areas and walk you through 42 different scenarios! This book covers ages 0-6.
CONTENTS:
PART ONE – POSITIVE PARENTING IN THEORY
INTRODUCTION
NON-PUNITIVE PARENTING PARADIGM SHIFT
POSITIVE PARENTING PRINCIPLES
THE DEVELOPING SELF-CONCEPT
BUILDING ATTACHMENT IN INFANCY
PART TWO – POSITIVE PARENTING IN ACTION
EXPLORATION/DANGER
HITTING/AGGRESSIVE BEHAVIOR
TANTRUMS
NOT LISTENING/COOPERATING
WHINING
INTERRUPTING
BACK TALK
LYING
CHORES/RESPONSIBILITIES
SIBLING RIVALRY
PEER INFLUENCE
MEALTIMES
POTTY LEARNING
NIGHT TIMES
OUT AND ABOUT
CONCLUSION

Here is what Dr. Laura Markham of Ahaparenting.com has to say about this ebook:
"This new ebook educates parents with real life scenarios, showing simply and accessibly how to put positive parenting into action in daily life. The user-friendly format takes daily scenarios that stump even seasoned parents, tells us what's going on in the child to cause the behavior, and recommen

...

ds specific parenting interventions to get the child back on track. Divided into sections like Nighttime, Potty Learning, Hitting and Whining, it addresses all the usual challenges of life with young children. Parents learn how to handle those supermarket meltdowns, the restaurant trip that makes you cringe, and even the inevitable sibling squabbles."
Read this review by Dulce de Leche
Review by Hybrid Rasta Mama
Review by The Path Less Taken
Also available in the

Amazon

Kindle Store!
Click here
to get the Kindle version!
If, for some reason, you cannot download it within these 24 hours, email me at admin@positive-parents.org.
******************************************************************************
© copyright 2013- All Rights Reserved
I am so pleased to finally offer
The Newbie's Guide to Positive Parenting
! This 30-page PDF eBook will give you clarity and offer you tools and skills that will strengthen your relationship with your child while teaching values and instilling the self-discipline that will benefit your child for a lifetime.

The Newbie's Guide to Positive Parenting provides several scenarios so you can see positive parenting in action! This eBook includes:
ONE: What is Positive Parenting?
TWO: How Positive Parenting is Different from Permissive Parenting
THREE: Changing Your Mindset
FOUR: Teaching Tools
FIVE: Consequences, Punishments, and Problem-Solving
SIX: Limit Enforcement versus Punishment
SEVEN: 10 Alternatives to Punishment
EIGHT: 10 Things That Are More Important Than Discipline
What people are saying:
*I purchased your ebook and I'm really impressed. It's a great introduction to the concepts behind positive parenting, telling what it is and what it is not. I like the examples behind what is permissive versus what is positive parenting. -Allison F.
*I can't wait to share your new e-book with all my mom friends. I think it is very informative and has great scientific information as well as examples. It will be a great easy reference manual for parents! - Julie Y.
*I'm reading your E-book this morning and it is WONDERFUL! I'm excited to put all the tools to use with my children and spread the word about this great resource! - Ronelle
*I've finished reading the 'Newbie Guide'. Excellent!
Informative: Laying down a base for why we want to be positive parents (or grandparents) appeals to our logic and enables us to let go of preconceived ideas of reward and punishment.
Tells what, how, and why: Books in the '70s told us 'what' but left us to our own instincts of just 'how' to be positive. Although our intentions were good, following through was difficult without really understanding how and why. The 'why' reinforces the importance of the 'what' and the 'how'.
Gives examples: The examples re-enforce the 'how and all parents can relate to the simple examples provided: hitting, throwing toys...
Easy language appealing to broad range of people: The language is simple and easy to understand. It's obvious it's been written by a loving, nurturing parent doing their best to raise their own children, and not from a doctor or psychologist trying to improve our behaviour as parents.
Leaves one feeling positive and good about themselves: The positive, loving, caring tone of the book leaves me as a grandparent feeling inspired to do my best to be positive and gentle with my grandchildren, even when they are having a bad day.
Thanks so much for making this book available in ebook form and for such a minimal price! - R.
*I think this book is wonderful! It is a great blend of philosophy, with practical tips for how to apply the principles. I love some of the cute ideas you have in there! LIke the mind jar, and I love your photo of the responsibility poste
r also. You phrased it so beautifully...that children are often punished for being human and are held to an ideal that we ourselves cannot attain. You have packed a lot of great info into this book. Highly recommend! - ConsciousParents.org
As a psychologist parents often come to me for assistance with their parenting challenges and with issues they consider behavior problems in their children. I have recently begun recommending this resource as an easy "how to get started" guide when they are new to the concept of positive parenting. I think it's a great resource. - Samantha M.

If, for some reason, you cannot download it within these 24 hours, email me at admin@positive-parents.org.